Termite Inspection – Browns Plains
Termite Inspection – Browns Plains
September 2, 2016 by Conquer Termites - Brisbane South Central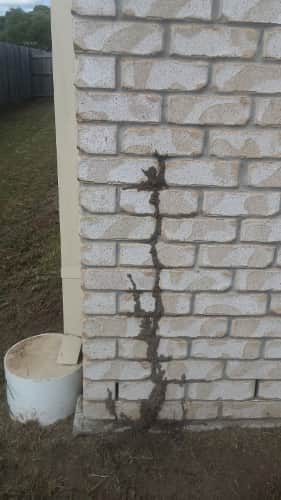 So often we get caught up in the day to day grind, going to work, cooking meals, looking after children or loved ones. Sometimes we forget to stop and smell the roses or check for termites as may be the case in this story. It's no easy feat owning and maintaining a house these days, with renovations, mowing, up keep, revamps and the never ending clean up. Sadly sometimes we loose sight of one of more of these things when juggling all the balls life throws at us.
Recently a home owner in Browns Plains came to this realisation. It had been at least 6 months since they had checked their house for signs of termite activity or conducive conditions – mudding, soft or flaky timbers, water leaks, timber in contact with the ground.
Unfortunately termites don't really seem to take into consideration all of the things we must take care of as adults, and they continue their destruction without any hesitation. You can see in the image here, that termites have made a Christmas tree effect up the brick wall here (these workings are likely to have taken every bit of the 6 months the owner had been absent from checking the house).
Generally workings like this would be spotted when out gardening or playing with the kids in the yard, but this home owner had been far too busy of late.
Luckily, Conquer Termites South Central came to the rescue with a very thorough termite inspection using a top of the range Thermal Imaging Camera and the unbeatable Termatrac If you would like some professional advice call your local termite device. The termites were quickly eradicated before doing any damage to the house and to stop further damage the now relieved home owner proceeded with a full termite treatment using Termidor and promised to stay vigilant by checking for those early warning signs and having his annual termite/warranty inspections.
If you can't remember when your last termite inspection was, it's been too long! Caught up in the busy life cycle? Cut to the chase and call Nick on 07 3343 3934 or email nick@conquertermites.com.au to book your termite inspection now before it's too late!