Pest Control – Runcorn
Pest Control – Runcorn
June 25, 2012 by Conquer Termites - Brisbane South Central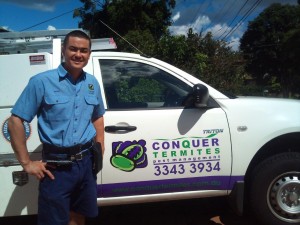 Pest Control in Runcorn requires a few steps in keeping everyday pests under control.

Step 1. Ceiling dusting . This controls silverfish, cockroaches and spiders by spraying a blanket of dust which will kill insects as they crawl over it.

Step 2. Cockroach gel in the kitchen cupboards and wet areas. Cockroaches will detect the sweet smell of the gel, eat it and take it back to the nest to pass onto other cockroaches which will cause them to die.

Step 3. Internal pest control of floorboards and skirting boards for homes in Runcorn. This is for cockroaches and small spiders.

Step 4. External pest control for spiders and black ants in Runcorn. This is the most important spray as most pests come from outside. We spray the lower exterior,window frames and gutters.

If you have any problem with pests in Runcorn or surrounding suburbs please call now to discuss a specialised pest control for your property.