Termite Inspection – Edens Landing – Termites Attack Wooden Deck
Termite Inspection – Edens Landing – Termites Attack Wooden Deck
March 26, 2015 by Conquer Termites - Brisbane South Central
Termite Inspection – Edens Landing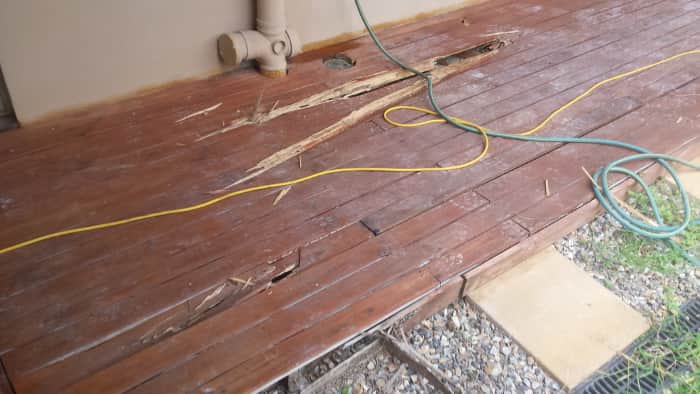 Whilst driving through Edens Landing Conquer Termites received a call from a customer wanting a termite inspection. We did not have time to conduct a full termite inspection so we did a quick free termite check of the deck which was a concern to the home owner and found there was extensive termite damage. After speaking with the home owner we arranged to conduct a full termite inspection the next day.
As we conducted the termite inspection on this lovely home in Edens Landing we could see why termites or white ants were attacking the timber deck. The deck was only thirty centimetres off the ground and it was actually supported by timber and not steel post. The deck was about ten metres long and two metres wide and was completely eaten by termites, the termite damage was so extensive I accidentally fell through it (please see photo).
Termite Treatment – Edens Landing
After talking to the home owner about having termites so close to the house we strongly recommended to install a termite barrier using the safest termiticide on the market, Altriset. Altriset is the safest chemical to have around home owners, small kids and pets as it is derived from a tree bark in South America. Conquer Termites can also install termite treatments using the chemical, Termidor. Conquer Termites thorough and professional termite inspectors will always strive to install termite protection to the best of their ability and keep home owners out of trouble.
If you would like a termite inspection or a free quote call us now on 3343 3934 or 0432 721 715.
Please check out our other Website as well.
www.termitesruncorn.com.au