Termite Inspection – Loganlea – Termite nest found with thermal camera
Termite Inspection – Loganlea – Termite nest found with thermal camera
June 6, 2013 by Conquer Termites - Brisbane South Central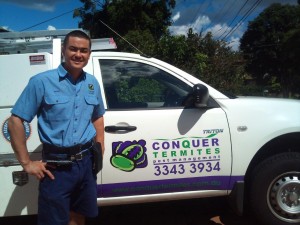 I received a phone call from a customer in Loganlea wanting a termite inspection as soon as possible as she knew she had termites (white ants) under the house and I was able to book the termite inspection for the next day. This lovely customer in Loganlea kindly pointed out where they knew they had termites which made it easy for me to start the inspection. The two story house in Loganlea was on a good size block with lots of big trees around it. Termites do like to nest in the crown or base of trees.

We do recommend at a minimum to conduct a full termite inspection on a yearly basis to keep any termite damage small. After a very thorough termite inspection of this house in Loganlea we were able to find many more live termites inside the house. Some termites in South East Queensland can nest inside the house and that is exactly what I found in the downstairs laundry. White ants had eaten the downstairs shelving studs to the point of collapse.

This is why termite inspectors recommend home owners check their houses regularly. Please see footage of inspection as I was quite amazed at what I found with the thermal camera. Unfortunately for the home owner I found a large termite nest in the wall, only visible with the thermal camera. This is why your termite inspector should have a thermal camera. If you want the most thorough termite inspection in Loganlea call Conquer Termites on 3343 3934 or 0432 721 715.