Termite Inspection – Termites Found on 2nd Level – Mt Warren Park
Termite Inspection – Termites Found on 2nd Level – Mt Warren Park
April 9, 2014 by Conquer Termites - Brisbane South Central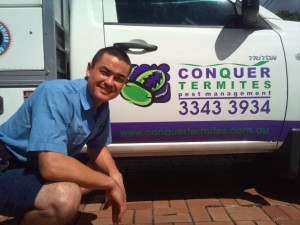 It was a lovely Saturday afternoon when we received a call from a worried customer in Mt Warren Park who needed a termite inspection as they had just found termite activity on the second level. Unfortunately we were busy Saturday afternoon but were able to book the termite inspection for Sunday morning. Conquer Termites do our very best to get to the termite problem in Mt Warren Park on that day or the next.
Our poor customer showed us the termite damage in the door frames on the second level, he was very worried and didn't know how they got there. After a thorough termite inspection in the yard and in the house I could see exactly how the termites had entered his house.
Our customer told us that he had a leaking hot water tank in the laundry and unfortunately the white ants had travelled to this spot then climbed directly above this and fed on the door frames above them. I showed the customer the termite trail to the second level and he was relieved to see how they had entered his house. After I had finished the termite inspection I had to eradicate the live termites by using Termidor foam. This will only kill the termites in the house but it won't stop new termites from entering the house. This is why it is essential to install a Termidor treatment to keep those nasty buggers out.
If you want peace of mind that your house is protected by an accredited Termidor applicator call us now for a free quote on 3343 3934 or 0432 721 715.
Please check out our other Website as well.
www.termitesruncorn.com.au