Termite Treatment – Eight Mile Plains
Termite Treatment – Eight Mile Plains
December 11, 2011 by Conquer Termites - Brisbane South Central
Eight Mile Plains is an older, more established suburb, with houses usually around 40 years old. Often, this means that the footings of the home are embedded into the soil, about 3-4 bricks down (as you can see in the below photo).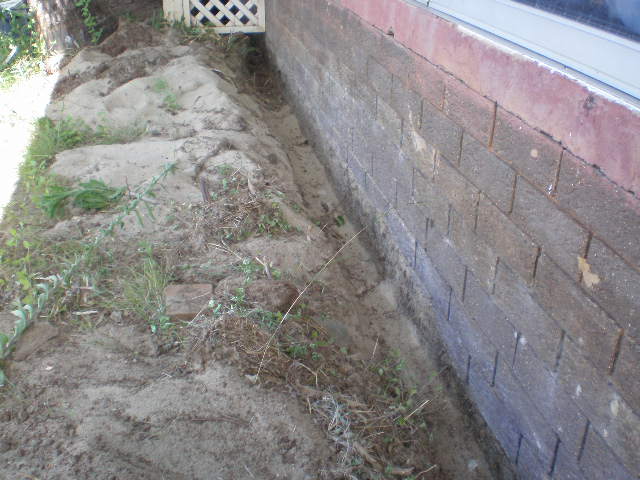 One of the advantages of living in an older, established suburb like Eight Mile Plains is that there are more trees and shade, a far nicer environment than many newer estates. The disadvantage though (as far as pest control is concerned) is that over time, most homeowners have had to cut down some larger trees.

Sometimes this is done without stump grinding (A term used to describe a method of removing a tree stump after the tree has been cut down. A cutting wheel fixed with tungsten teeth is used to chip and grind away the stump wood to below the surface of the ground). Not only is this an eyesore (and for that matter – a public liability issue if someone falls over one), but it is a huge attraction for termites (or white ants, as some people refer to them).

Termites build their nests in tree stumps and will eat the tree stump in your yard. Over time they are going to forage and head towards your biggest investment – your home to continue on their search for food.

I always tell my customers that it is far better to get a termite treatment in place BEFORE they have active termites, rather than later. If you wait until termites have been feeding on your home, not only are you going to face the cost of the termite treatment, but also the cost of repairs to your home, which can run into the thousands of dollars.

When it comes to termites, the old adage definitely holds true – prevention is far better than cure!