Termite Treatment – Runcorn – Possum Man Finds Termites In Roof
Termite Treatment – Runcorn – Possum Man Finds Termites In Roof
January 10, 2012 by Conquer Termites - Brisbane South Central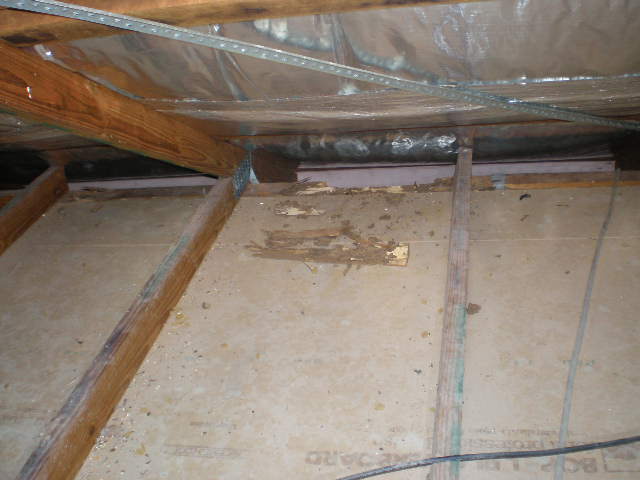 The moral of this story is "we recommend regular termite inspections in Runcorn.

It was just before Christmas 2011 when we had a worried customer ring asking us for a free quote and some well needed professional advice from a qualified technician, she had contacted the right people Conquer Termites South Central. When arriving at the home in Runcorn it was soon discovered this lovely home-owner had significant termite (white-ant) damage to one side of her house. Unfortunately for the home-owner termites had damaged the whole of the bottom plates, studs and even the top plates of the house (please see photo below).

Nick Wood explained that the bottom plates are what the walls sit on, studs are vertical supports to hold Gyprock or Plasterboard and top plates support the roof. As you can see in the photo, the top plate has been eaten to a point where it has fallen away. When termites have eaten their way to the top plate this is when the house can become structurally unsafe and a qualified builder is needed. This can become a very costly situation to be in when the bottom plates, top plates and studs need to be replaced, possibly well in excess of $10,000.

As our termite inspector proceeded to do a very thorough termite inspection of the whole house using all the tools of the trade, a tapper, termatrac, moisture meter, thermal camera and boroscope the home-owner was informed that there was significant damage behind the walls and a qualified builder would be required. It is quite amazing how this sort of situation can come about, if this particular home-owner did not hire a possum man to remove a troublesome possum from her roof, the termite damage would have been significantly worse or not noticed at all until it was too late.

Home-owners can do their very best to keep termites out of their house but it is always recommended to hire a professional termite inspector to conduct a full pest inspection. Don't let them in, call Conquer Termites South Central and save your house today.

Please ring Nick on 3343 3934 or directly on 0432 721 715.